L'Universo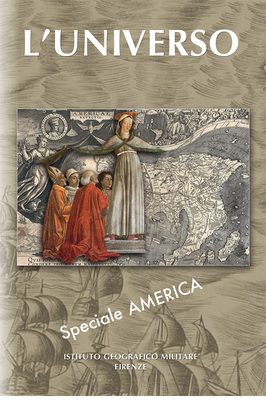 Bimonthly magazine  (ONLY IN ITALIAN)
Editor in chief : Brig. Gen. Giuseppe Poccia
For any information about the articles and/or issues that will be published:
L'UNIVERSO Editorial Office: Alessandra Cristofari, Anita Panci, Giovanni Casini, Adele Monaco, Laura Guidi, Mauro Marrani, Maria Letizia Compagnone 
Via Cesare Battisti, 10 - 50122 - Florence
Tel. +39 055 2732233 - +39 055 2732242 - +39 055 2732614 
Send an email to the Editorial Office
L'Universo mainly contains original articles focusing on geography and cartography, together with urban, land and environment studies. Other contents are bibliographical reviews and meeting and congress papers related to the subjects of interest. The magazine was awarded with the Golden Medal by the Italian Geographic Society in 1999 and the "Giorgio Valessi Price" by the Italian Association of Geography teachers in 2002.
Bimonthly magazine registered with the Court of Florence (no. 32 of 15th July 1948).
Reproduction of "types" belonging to the Italian Military Geographic Institute is forbidden.
ISSN:0042-0409