Black-and-white or colour aerial photographs
The aerial stereoscopic photographs of the Italian territory, yearly repeated, are taken by nadir photograms. Photograms are photogrammetric, normally in 23x23 format, panchromatic (B/W) and the estimated scale is at 1:33.000 (it changes according to the spot elevation). Since 1988 the Italian territory's photographs have been taken using a movie camera equipped with FMC - forward image motion compensation - and high-definition film. Thanks to the photograms obtained following this method, terrain's characteristics can be better analyzed and understood.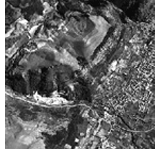 Detail's enlargements on paper
All photographic enlargements on paper have an identification stamp, referring to the photogram from which they have been obtained (sheet at scale 1:100.000, capturing year, flight strip-run, photogram's number).
Digital images of aerial photographs
They are obtained by scanning the entire photogram at 300, 800, 2400 o 2500 DPI (Dot Per Inch).
As for the 2500 DPI resolution, the scan of the original photogram is obtained by transparency except for the images scanned from negatives in 30x30 format, which can only be scanned at the highest resolution of 2400 DPI.
The digital data are currently provided in .tiff format